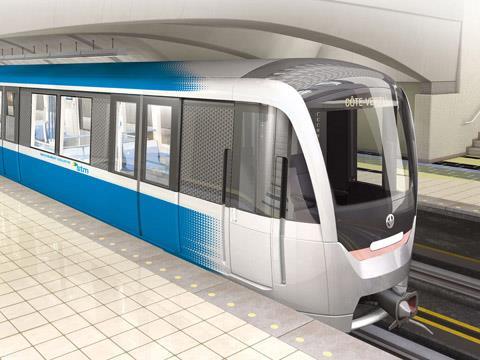 CANADA: Montréal metro operator STM unveiled the design of its future trains on February 18, and is preparing to launch a publicity campaign across stations, local media and Facebook to find a name for the fleet.

A consortium of Bombardier and Alstom was awarded the C$1·2bn contract to supply 52 nine-car rubber-tyred trains in October 2010.
STM Chairman Michel Labrecque said the aim of the consultation on the styling and name is to create a sense of pride amongst staff and customers. The trains are currently designated MPM-10, (materiel pneumatique de Montréal ordered in 2010).
LABBE Designers Inc has developed the industrial design, including concepts for the interior layout and external appearance. The aim is to offer a 'dynamic appearance, open interior, modern design, strong, distinctive image and timeless look', according to Labrecque, with a 'classic look deeply entrenched in the day-to-day reality of transit users'.

Branding agency Sid Lee developed three proposals for the livery which were put out to public consultation during December. More than 30 000 responses were received, with around half favouring a metallic finish which gradually changes to blue.

A prototype trainset is due to be delivered in June 2013, with series deliveries from February 2014 to September 2018.