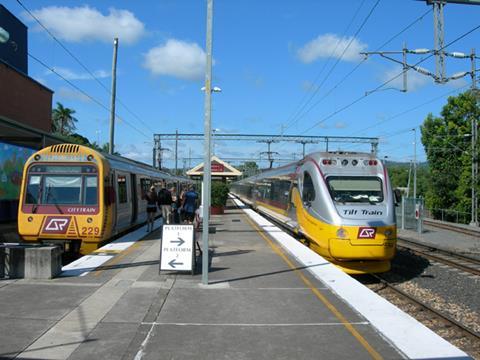 AUSTRALIA: An 8 km metro and major expansion of suburban and regional rail services in Brisbane are at the heart of a 20-year transport blueprint published by the Queensland state government on August 31.
Entitled 'Connecting SEQ 2031', the plan would cost A$123bn if all the projects were adopted. According to State Premier Anna Bligh, this would deliver a three-fold increase in public transport usage in the greater Brisbane area.
Additional capacity for suburban trains would be created by the construction of a north-south tunnel under the Brisbane River, including four sub-surface stations in the city centre. The Cross-River Rail project is currently the subject of a A$25m feasibility study, jointly funded by the state and national governments.
Bligh added that the state government wanted to see journey times from the Gold and Sunshine coast towns to central Brisbane reduced to less than 1 h by raising line speeds to 160 km/h and using tilting rolling stock.
A total of 207 km of new line, additional track and metro is proposed, including:
A 15 km suburban rail line between Alderley and Strathpine;
Extension of QueenslandRail suburban services to Maroochydore (38 km), Coolangatta (17 km), Moreton Bay (12∙6 km), Springfield (16∙5 km), Ripley (13∙5 km) and Flagstone (31∙5 km);
Extension of the Gold Coast Rapid Transit light rail line — construction of which began on August 1 — to Coolangatta;
An 8 km east-west metro in central Brisbane from Toowong to Newstead/Bowen Hills.
The programme also provides for investment in freight traffic, including the development of the Acacia Ridge terminal, from where a dual-gauge freight line would be built to the Port of Brisbane.
'We need to completely overhaul the way trains operate to deliver this level of growth', Bligh said. 'We are working to deliver a rail revolution.'