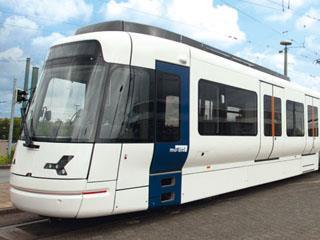 GERMANY: Queues of up to an hour developed when Bielefeld transport operator MoBiel opened its first Vamos light rail vehicle for public viewing during a depot open day on July 3 which attracted 20 000 visitors.
MoBiel placed a €47m order for 16 LRVs with a consortium of HeiterBlick and electrical equipment supplier Vossloh Kiepe in January 2009, and has options for a further 25.
The three-section vehicles are 34 m long, 7 m longer than the existing M8C and M8D cars. The platforms on the metre-gauge network are designed for 2 300 mm wide cars, but to increase capacity the Vamos widens to 2 650 mm above platform height, creating space for 230 passengers to increase capacity on the heavily used pre-metro routes.
The cabs have Kiepe touchscreen displays, while the passenger area offers air-conditioning and information screens showing the destination, route and real-time connections.