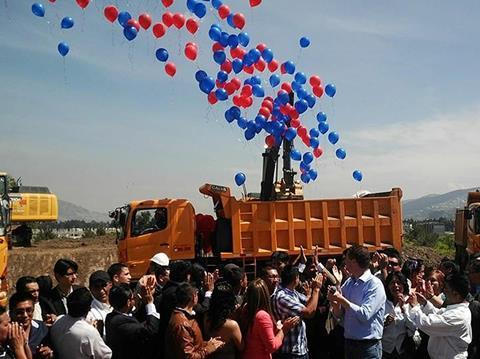 ECUADOR: Mayor Mauricio Rodas launched the construction of the first metro line in Quito on January 19 with a ceremony at the future southern terminus at Quitumbe.
The 22 km north-south Line 1 will connect El Labrador and Quitumbe with 15 stations. The end-to-end journey time is expected to be 34 min and around 400 000 passengers per day are forecast to use the line once it opens in 2018.
The project is valued at US$2bn, which is being financed by the city (63%) and the national government (37%). The first phase, covering construction of El Labrador and La Magdalena stations, is worth U$7·5m. In October a consortium of Acciona and Odebrecht was awarded a US$1·54bn contract for Phase 2 works, which covers the remainder of the line.
A fleet of 18 six-car trainsets each able to carry 1 500 passengers is to be procured at an estimated cost of US$172m. The trains will draw power at 1·5 kV DC from overhead wires and will be stabled at a depot at Quitumbe, which is also the location of the control centre.