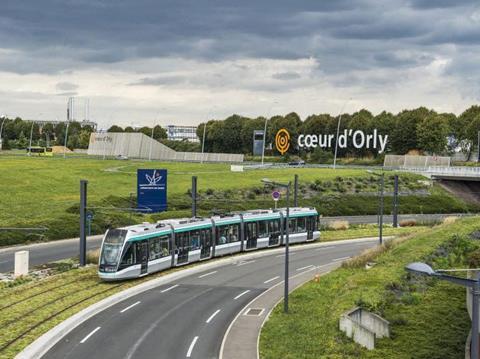 FRANCE: The board of Paris transport operator RATP has formally approved the draft plans for a southern extension of tram line T7 from Athis-Mons to Juvisy, where an interchange will be provided with RER lines C and D.
Being promoted by Ile de France transport authority STIF, the extension was originally planned to open in 2018, but is now expected to be completed by 2021. Running for 3·7 km, including around 900 m in tunnel, the extension will serve six stops in the districts of Athis-Mons, Paray-Vieille-Poste and Juvisy-sur-Orge. One stop would also be underground.
In order to serve the extension and increase peak services from 6 min to 4 min headways, RATP is planning to purchase 12 additional trams similar to the 19 Alstom Citadis 302 vehicles which operate on the existing line. This in turn will require an extension to the depot at Vitry to accommodate the extra stock. Under the proposals, RATP would act as project manager for the depot expansion and the necessary modifications to the T7 control centre, while STIF would oversee the rest of the extension works.
Opened for revenue service in November 2013, tram route T7 runs for 11·2 km with 18 stops, connecting the metro Line 7 terminus at Villejuif-Louis Aragon with a tram/bus interchange at Athis-Mons; end-to-end journey time is around 30 min. Interchange is also provided with the Orlyval peoplemover serving Orly Airport.
According to RATP, the line serves an area where more than 300 000 people live and work. Following the opening of the extension, ridership is expected to increase to around 60 000 passengers per day.
Cost of the Juvisy extension is estimated at €198m in 2011 prices, of which the design accounts for €29m and the civil works for €153m. The 12 extra trams are expected to cost an additional €33·5m, which would be entirely funded by STIF.