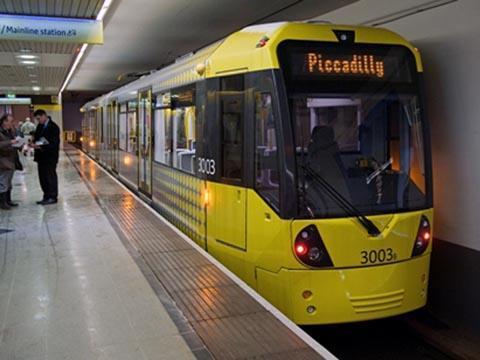 UK: The RATP Dev UK Ltd subsidiary of Groupe RATP bought Manchester light rail operator Stagecoach Metrolink Ltd from Stagecoach Group on August 1. SML operates and maintains the Metrolink network under a 10-year contract with Transport for Greater Manchester which runs to July 2017.
There are currently four Metrolink lines totalling around 40 km, and a major expansion programme is underway. 'Metrolink is one of the UK's most successful tram networks, so we are naturally delighted to join with the existing team to be able to bring our expertise and know-how to continue its further development', said Paul Matthews, Chief Executive of RATP Dev UK. 'Metrolink is now embarking upon a significant phase of expansion which presents us with plenty of opportunities to assist in producing a world class tramway of which the city can be rightfully proud'.
Stagecoach said the gross assets of SML as of April 10 were £16·2m. A spokesman told Railway Gazette International the sale was part of a review of the group's portfolio, but financial details are not being released. Stagecoach said it is 'not engaged in any discussions regarding a sale' of its Sheffield Supertram operations.
Paris transport operator RATP created RATP Développement in 2002 to bid for operating contracts outside the French capital. The company says it is now the 'fifth largest urban transport operator globally', and 'the third biggest tram network operator in Europe in terms of traffic', operating trams in Paris, Manchester and Firenze. In the UK it has more than 3 000 employees and turnover of around £200m, operating buses in London, Bournemouth and Bath.