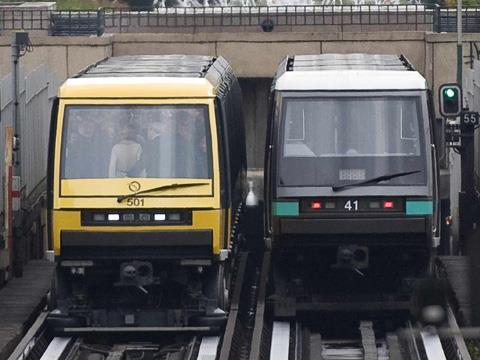 FRANCE: The board of Ile de France transport authority STIF voted on July 10 to approve the conversion of Paris metro Line 4 to fully-automated operation, endorsing proposals submitted by operator RATP on June 28.
Carrying 740 000 passengers/day, the north-south Line 4 is the second-busiest metro line in Paris after east-west Line 1, where the conversion to unattended operation was completed in December 2012. The 12·1 km rubber-tyred line links Porte de Clignancourt with Mairie de Montrouge, serving 27 stations including the main line termini at Nord, Est and Montparnasse. It is the only line that interchanges with all other metro and RER routes in the city. A 1·7 km southern extension from Montrouge to Bagneux is currently under construction.
Work on Line 4 is expected to begin next year for completion in 2019. This will include the installation of half-height platform screen gates at all stations, as well as the ATO equipment. Total cost of the conversion is put at €256m, of which €100m will be provided by STIF.
Under RATP's proposal, Line 4 will be operated by the existing fleet of driverless trainsets now used on the Météor automated Line 14, which are due to be replaced by new trains when that route is extended from Saint-Lazare to Mairie de Saint-Ouen. Line 14 currently has a mix of MP89CA trainsets supplied by Alstom for the opening of the line, augmented by a handful of MP05 sets of the type introduced on Line 1 during the automation of that route. Transferring these sets to Line 4 would in turn enable RATP to cascade the manually-driven MP89 sets which Line 4 inherited from Line 1 to replace older stock on other rubber-tyred routes.
Citing its experience on Line 1, RATP said the conversion of Line 4 to UTO would allow it to increase capacity, improve punctuality and the quality of service, as well as enhancing its ability to react to changing demand patterns. It would also improve safety, thanks to the introduction of the platform screen doors.