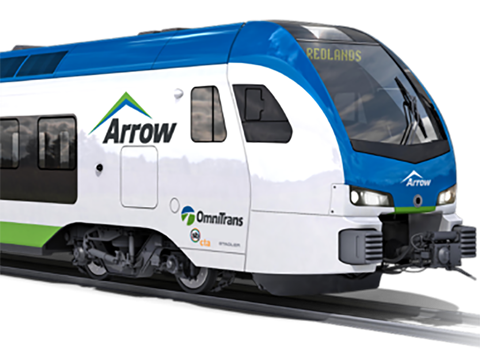 USA: Construction work for the 14·5 km Redlands Passenger Rail Project in southern California is on course to start later this year, following the selection of Flatiron Construction Corp as preferred bidder for the $154m main works contract.
The $312m Redlands project is being promoted by San Bernadino County Transit Authority. The line will run from San Bernadino to the University of Redlands campus, serving intermediate stations at Tippecanoe Ave, New York St and Downtown Redlands. Trains would connect at San Bernadino with southern California's Metrolink commuter rail network.
The project makes use of a former Santa Fe freight railway alignment, and Flatiron has committed to ensuring that freight trains can continue to operate during the construction period. It also says much of the materials used will be recycled where possible.
SBCTA ordered three twin-section Stadler Flirt DMUs last year to operate the all-day Arrow shuttle service, which is expected to start running in late 2021.
Trains would run hourly, or half-hourly during the morning and evening peaks. In addition, Metrolink Express loco-hauled through trains will link Los Angeles and Downtown Redlands at peak times.