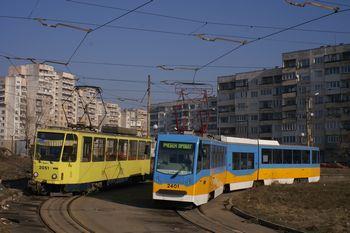 BULGARIA: The first of 18 Sofia trams to be modernised under a €13·6m contract with Inekon has returned to service in the Bulgarian capital.
The 1 009 mm gauge three-section T8-700IT tram has been rebuilt from a twin-section T6M-700 with the insertion of a 360 mm entrance height centre section which has a wheelchair and pram ramp. The first vehicle was taken to the Czech Republic to be rebuilt as a prototype, and work on the remaining 17 will now be undertaken locally by Tramcar Sofia.
The electronics, heating and braking have been modernised, with the installation of asynchronous traction motors, IGBTs and microprocessor controls. Electricity consumption and regenerated power supplied back to the overhead is recorded. The interior gains a passenger information system and CCTV door monitoring.
'The contract includes complete reconstruction of the vehicles to comply with current European standards, safety requirements and comfort expectations of the drivers and passengers', said Josef Hušek, Chairman of Inekon. 'After testing the prototype under traffic conditions, our Inekon Trams subsidiary will supply parts for the reconstruction of one or two vehicles per month. Inekon is now 'making efforts to get more contracts of similar extent' in the Balkans.