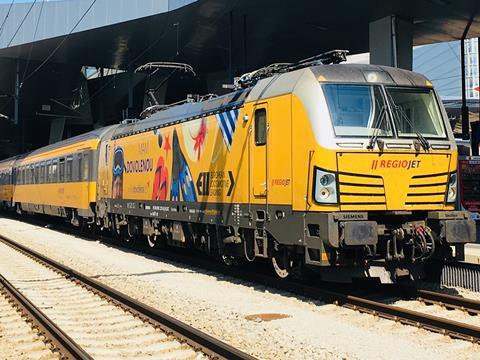 HUNGARY: RegioJet has begun selling tickets for journeys within Hungary on its Praha – Wien – Budapest services, becoming the first private operator to challenge incumbent MÁV-Start on domestic journeys.
On August 26 the open access operator began offering fares between Budapest, Győr, Mosonmagyaróvár and Hegyeshalom in standard class only, which is the second-lowest of four classes of accommodation available. Fares are priced competitively; the €5 offer between Budapest and Győr is around 40% cheaper than the incumbent's typical inter-city tariff.
However, RegioJet was forced to suspend its Budapest service on September 1 because of border restrictions imposed by the Hungarian government to combat a rise in coronavirus cases. It hopes to resume on October 1.
RegioJet began serving Hungary on July 31 by running two return trips each way as extensions of the Praha – Brno – Wien services which had been running since December 2017; its local operating partner is Continental Railway Solution.