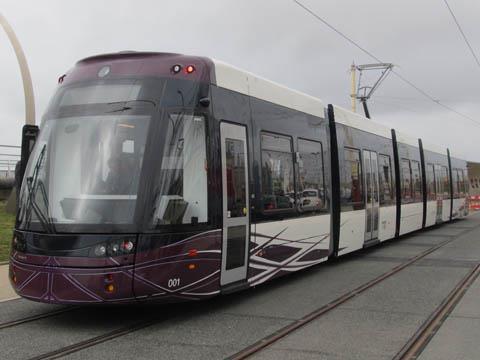 UK: Transport Minister Norman Baker officially reopened the Blackpool tramway on April 3, following a four-year project to revitalise the only traditional tram line to have survived in the UK.
The first journey carried 40 'golden ticket' competition winners, with regular passenger services scheduled to start the following day.
The £100m modernisation programme to secure the long-term future of the 16 km line included 11 km of track renewals undertaken by BAM Nuttall, construction of a new depot by VolkerFitzpatrick and the procurement of 16 low-floor trams from Bombardier Transportation for £33m.
The project was launched to tackle the deteriorating condition of the infrastructure and meet the accessibility needs of an aging population. The iconic double-deck trams which form an important part of the seaside resort's image could not be made compliant with modern accessibility standards.
Blackpool was the launch customer for Bombardier's Flexity 2 design. The new trams offer faster acceleration than the traditional vehicles, and in conjunction with priority signals and a reduction in the number of stops are expected to reduce journey times by up to 15 min to compete with road transport. The remaining stops have been modernised, with raised platforms to provide level boarding.
'The new trams are marvellous and offer residents so many more opportunities in terms of speed and accessibility', said Blackpool Councillor Fred Jackson. 'It is now a viable mode of transport for people travelling to work, school or shopping.'
The older cars now form a heritage fleet which will operate tourist services at weekends and during the summer.
The modernisation programme has been funded with £68·3m from the Department for Transport; £17·7m from Blackpool Council; £15·2m from Lancashire County Council and £0·4m from the EU's INTERREG North West Europe Programme.
'Trams are good for passengers, good for the local economy and good for the local environment, and the travelling public enjoy using them', said Baker. 'Blackpool has a long and proud history of tram use, indeed its tramway is among the oldest in the world. We want to ensure that the future of tram use in the town is even brighter'.