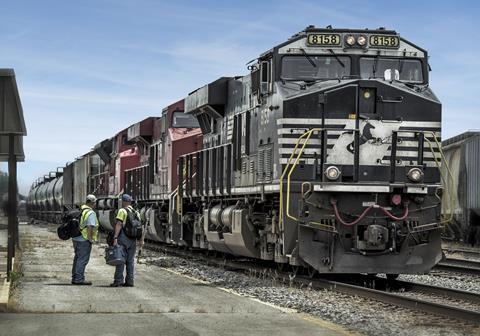 USA: Norfolk Southern has launched a partnership with the Transportation Division of the International Association of Sheet Metal, Air, Rail & Transportation Workers to enhance the railroad's conductor training programme.
A train-the-trainer programme for all conductors and foremen will ensure consistency and quality in the training provided, while a standardised process will be used to monitor progress with trainee qualification, and a bilateral rating system will enable conductor trainers and trainees to rate each other's engagement, professionalism and commitment to safety.
From August 1 NS will increase the training stipend for conductors providing instruction from $10 to $30 for a through-freight-service shift, and $35 for all other service shifts. Daily pay for craft mentors will be increased from $325 to $375.
'We are ensuring that the Norfolk Southern conductor trainee programme will be the gold standard in the industry', said SMART-TD General Chairperson Tommy Gholson on July 26. 'We are committed to working with Norfolk Southern to ensure that our future members have access to the resources and instruction they need to have a safe and rewarding career on the railroad.'