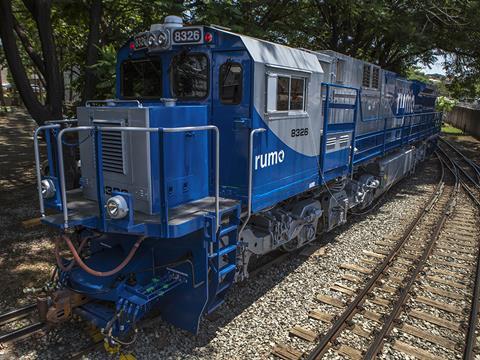 BRAZIL: Industry association Abifer has signed a 'strategic alliance' with the Brazilian Agency for Industrial Research & Innovation (Embrapii) to promote research and innovation.
The agreement aims to cement the relationship between Abifer's member companies and Embrapii's network of research centres and institutions to 'make it a reference for research and innovation activities for the entire production chain in the railway sector'.
Embrapii offers expertise that Abifer believes could contribute to research in the fields of biotechnology, advanced materials, information technologies and Manufacturing 4.0, the objective being to ensure that production processes are more economical and sustainable. This should lead in turn to cost savings in the movement of freight and passengers by rail.
Speaking after a virtual signing event on April 15, Abifer President Vicente Abate said the agreement was 'a landmark of relevance for our entity and its associates, given the excellence of the research and innovation projects developed by Embrapii'.
'Rail is fundamental to logistics for a country the size of Brazil', emphasised Embrapii CEO Jorge Guimarães. 'The rail system serves different sectors such as agribusiness, mining, steel, oil and gas. With the development of new technologies by the industry, it will be possible to expand the capacity of the Brazilian rail network, making it even more efficient and so enhancing the competitiveness of national companies that use rail transport', he continued.
An initial outcome saw Wabtec take part in a meeting with Embrapii researchers to discuss energy efficiency, digital technologies, materials and manufacturing.
Embrapii has already signed agreements with a range of other industries including pharmaceuticals, textiles, pulp and paper, aluminium, motor vehicle components and medical supplies.