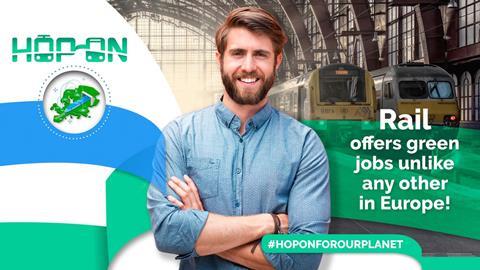 EUROPE: Rail industry suppliers' association UNIFE has launched a campaign to raise the awareness of young people about rail, in a bid to encourage them to travel more by train and to consider a career in the rail sector.
Intended to support both the forthcoming European Year of Rail 2021 and the European Green Deal, the Hop On For Our Planet initiative will help to 'get Europe's green future on the fast-track with rail', the association suggests.
In conjunction with the campaign to recruit and retain the next generation of skilled workers, UNIFE commissioned an independent survey by international think tank ThinkYoung to investigate the wider opinions about the rail sector among 'Generation Z' young people aged 16 to 25. It believed that this would provide 'a unique opportunity' for European policymakers 'to hear directly from Gen Z specifically, crafting better industrial and public policy for their needs'.
Among the results reported on October 21, the survey found that the majority of young people questioned:
were willing to use greener transport modes for the benefit of the planet;
wanted public authorities to invest in sustainable rail transport;
believed that zero-emission technology was the future of innovation for rail.
Around  half of them expected to pursue studies and careers related to sustainability, whilst female respondents currently  pursuing a STEM career valued sustainable employers even more than their male counterparts.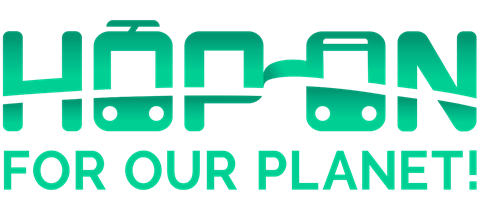 'The campaign clearly demonstrates that rail is the way forward for sustainable transport infrastructure, innovative jobs and a lifetime of opportunity', said UNIFE Chairman Henri Poupart-Lafarge, Alstom Chairman & CEO. 'Especially amongst European Gen Z, who the survey revealed have much to learn about our industry.'
'Hop On For Our Planet is a welcome initiative to attract skilled Europeans to the rail supply industry', added Dominique Riquet from the European Parliament's Transport & Tourism Committee, who is Vice-Chair of Renew Europe. 'To remain world leaders in this field, we will need to show to a new generation of innovators how they could have a role in Europe's twin transition.'
Speaking on behalf of the European Commission's Directorate-General for Internal Market, Industry & Entrepreneurship, Head of Unit Barbara Bonvissuto added that 'digitalisation and automation are rapidly changing skills needs in the rail ecosystem. The forthcoming blueprint for sectoral co-operation on skills has potential to improve availability of skilled staff for rail.'
'Today's event demonstrated our industry's continued reimagining of rail', concluded UNIFE Director General Philippe Citroën. We are excited to be part of the Hop On campaign as it is another opportunity to engage with young and experienced professionals, give them access to incredible innovation and provide paths to tremendous career opportunities. Together, I'm confident we can get the European Green Deal on the fast-track.'