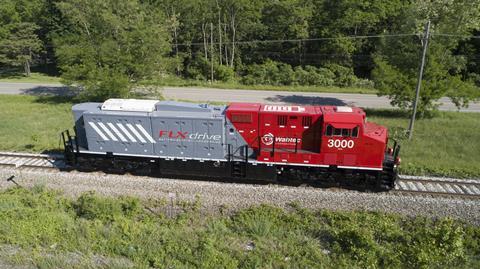 USA: Wabtec has set up partnerships with Carnegie Mellon University and short line specialist Genesee & Wyoming with a view to developing a range of low-carbon technologies for freight railroads. At the heart of the proposals is the Freight Rail Innovation Institute, a research body that would embrace expertise from the private and public sectors to explore technical advances in the US rail freight sector.
Proposals for FRII were revealed by Wabtec CEO Rafael Santana in a presentation to the House Committee on Transportation & Infrastructure in March. He called on Congress to work with his company and its partners to co-fund the Institute which he said would 'send a message to the entire transportation industry that 'together, the private and public sectors can help achieve the nation's vision of a competitive and sustainable American freight transportation network'.
The Institute would be located in the Pittsburgh area where Wabtec is based. It would incorporate 'centres of excellence' devoted to Green Power, Advanced Network Logistics and Capacity 'to bring rail into a new age of optimisation and lead the world in freight rail innovation'.
Outlining the 'Freight 2030' vision 'for transforming the rail industry', Santana said that within the next nine years 'we are committed to developing the technology to enable the expansion of freight rail utilisation, accelerating the reduction of greenhouse gas emissions with battery and hydrogen-powered locomotives, and enabling safer trains through a public-private partnership between industry, academia, and the federal government'.
More freight equals more jobs
The Freight 2030 initiative would generate 30 000 jobs within three years, Santana believed. Over the longer term he foresaw that 250 000 new jobs would materialise as rising freight traffic would require more staff in manufacturing, operations and maintenance.
Citing an AAR report, Santana highlighted the environmental benefits of handling more freight on rail: 'if we increased utilisation of rail by 50% for the movement of freight over 500 miles, we can reduce 60 million tons of greenhouse gas emissions per year'.
Wabtec's immediate goal is to develop zero-emission traction. Santana assured the Committee that the company had a 'clear path' to develop a generation of new and rebuilt locomotives using batteries, hydrogen internal combustion engines and hydrogen fuel cells. The technologies being developed had to be 'retrofittable' to the current locomotive fleet; with research currently aimed at battery-hybrid and hydrogen combustion applications.
In conjunction with BNSF and California Air Resources Board, Wabtec has been testing its FLXdrive 100% battery-powered locomotive in revenue service on the 585 km route between Barstow and Stockton in California. At the time of Santana's presentation, the locomotive, which was matched with a pair of Tier 4 diesel locomotives, had run more than 16 000 km and achieved a 10% reduction in fuel consumption. It has since arrived back at the Wabtec plant in Erie pending further evaluation of its performance.