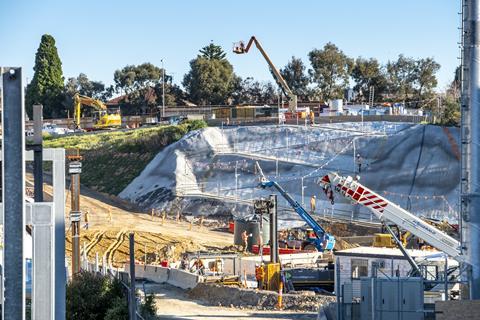 AUSTRALIA: The rail sector needs to embrace rapid changes in workplace expectations in order to overcome a looming demographic crisis, delegates at the AusRail conference in Sydney heard on December 4.
Addressing a panel discussion on future employment trends, Tim Rawlings, Head of Training Product Development at PwC Australia, suggested that the wave of investment pouring into the market, combined with the 'inherent romance of rail transport', could help the sector attract a new generation of workers. 'These younger people now entering the workforce are more driven by a sense of purpose than by money', he added.
This sentiment was echoed by Claire Pierce, Executive Commercial Lead at Wabtec, who warned that the sector is 'in a battle for hearts and minds, and we must do a better job of pushing the great story we have to tell'. She cautioned that rail businesses would need to commit fully to wider trends such as flexible working.
The skills gap facing the Australian industry as a bow wave of older workers approach retirement has been a recurring theme at AusRail 2019. However, Robert Wilson, Workforce Development Manager at the Australasian Railway Association, countered that 'rail does not face the same scale of problems as other industries like fishing or mining'.
Nevertheless, the panel felt that the industry needed to be clearer in highlighting the impact of automation and related 'Industry 4.0' technological development on the makeup of the rail workforce. 'We need to prepare our staff for it and we need to explain the changes clearly to policymakers', Rawlings emphasised.
According to Alison Pennington, an economist at The Australia Institute, rail could be among the industries affected by the end of traditional distinctions between blue and white collar work. 'Hybrid roles are the future of rail work', she felt, adding that the transition could be challenging as long-standing practices are challenged.
Signalling skills shortfall
Despite the overall sense of optimism, it was clear that finding adequate skills in particular disciplines to support major projects is already proving difficult. 'Every other request we receive is asking us to find signalling specialists', Ryan Carroll of recruitment consultancy Airswift told Railway Gazette. The company has seen 60% growth in its rail activity since it entered the sector three years ago, expanding on its established presence in the energy and construction industries.
Carroll suggested that the skills shortage could see rail businesses start to rethink how they manage their recruitment processes. Informal networks still accounted for a large share of recruitment in Australian rail, he felt, especially for project roles of limited duration. 'The problem then is that the company doing the recruiting struggles to understand the methods and cost of its hiring processes, and this can ultimately can start to impact on overall project cost management.'
Alstom Australia has responded to this risk by outsourcing all its recruitment to Airswift, leaving its in house HR teams to focus on staff retention. Carroll felt this model could become more widespread.
He also highlighted the rise in joint venture and alliance models to deliver major rail programmes. These increasingly include 'no poaching' provisions covering all the consortium members for the duration of the partnership. 'That's one way to lock in talent, but it only really helps the companies involved', he explained.
In the longer term, he suggested that 'government needs to do more to develop long term talent pools' for rail, adding that more work was required to ensure that railway education at universities was tailored more closely to current and emerging industry needs.