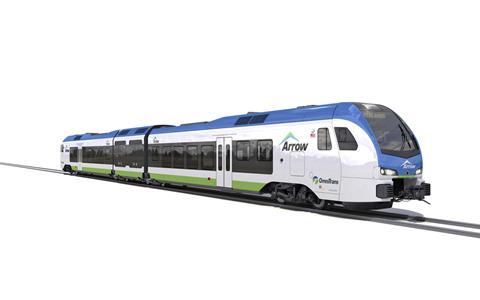 USA: Having undertaken research into alternative propulsion technologies to support the order for North America's first commercial hydrogen-powered train, the Center for Railway Research & Education at Michigan State University is to host a seminar on the topic in Long Beach on January 29-31.
Established in 2018 as part of MSU's Eli Broad College of Business, CRRE currently focuses on two areas of primary research: improved integration of rail into supply chains and the use of low- and zero-emission motive power.
Its year-long study for San Bernardino County Transportation Authority was funded by a grant from the California State Transportation Agency, and undertaken in partnership with the Birmingham Centre for Railway Research & Education in the UK and Mott MacDonald.
On November 14, SBCTA ordered a fuel cell powered Stadler Flirt H2 multiple-unit to operate its Arrow commuter rail service over a 14·5 km corridor in San Bernardino County. This will initially open using diesel multiple-units, and the zero-emission trainset is expected to enter service in 2024.
Over the past year, the study team evaluated the suitability of various technologies, estimating emission levels, and conducting a high-level cost analysis. The research also considered which low- or zero-emission technology would be most appropriate for 95 km commuter corridor connecting San Bernardino to Los Angeles.
The research examined conventional electrification, diesel-electric, biofuel, natural gas, battery and hydrogen fuel cell technology, as well as hybrid options. The final recommendations proposed the use of a battery or hydrogen fuel cell hybrid train, and SBCTA decided in favour of fuel cells for easier scalability and the potential service expansion.
'Investigating alternative fuels and power trains for railway vehicles is one of our areas of expertise', explained Andreas Hoffrichter, Burkhardt Professor in Railway Management at MSU and Executive Director of CRRE. 'We are globally leading in this field with particular expertise in hydrogen fuel cell railway vehicles, so this project was a natural fit.'
'MSU research and technical input was paramount in advancing the board of directors decision to move forward with hydrogen-powered technology', said Carrie Schindler, SBCTA's Director of Transit & Rail Programs. 'Being in one of the worst air quality areas in the nation, projects like this are critical to SBCTA's mission to improve the quality of life for San Bernardino County residents.'
The Long Beach seminar on Railway Motive Power & Alternative Propulsion is intended to provide an overview of emerging technologies, particularly aimed at urban rail operators grappling with the air quality and volatile diesel prices. It will look at developments in battery technology as well as hydrogen fuel cell systems, and consider how operational issues and duty cycles impact on the choice of technology and the design of propulsion systems.
Websites
We are not responsible for the content of external sites