Harry Hondius reports from Rotterdam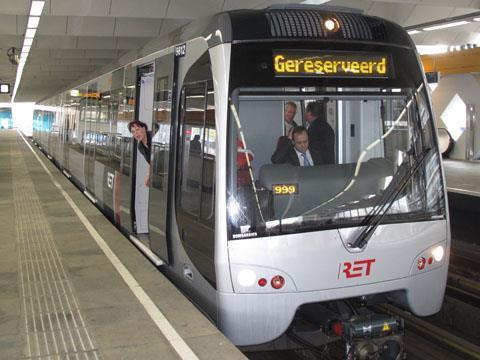 NETHERLANDS: On March 26 Rotterdam operator RET presented its new Bombardier Class 5600 metro cars for use on sneltram Lines A and B, the former Caland Line.

Trainset 5601 stood on track three at Rotterdam Centraal and was symbolically unwrapped by mayor of Rotterdam and chairman of Stadsregio Ahmed Aboutaleb, RET Managing Director Pedro Peters, and Germar Wacker, president of Bombardier Transportation's light rail division. The party then rode with set 5612 to Slinge.

The 42 Bombardier high-floor Swift cars are designed for dual system operation, using 750 V DC third rail or catenary. They are almost identical to the RET Randstad Rail cars that run on Line E between Den Haag and Hofplein.

The air-conditioned trains are 42 m long and 2 664 mm wide, weigh 64·3 tonnes and are powered by eight motors rated at 130 kW. They are equipped with 780 mm diameter resilient wheels and track brakes. The two-car unit has 104 seats and space for 166 standees at 4/m².

Speaking during the unveiling, Pedro Peters said that although the Series T supplied by Duewag/Holec in 1980-84 could have seen another 10 years of service, having had a complete mid-life overhaul between 1998 and 2000, they were considered noisy and outdated.

When the Blijdorp tunnel link from Melachtonweg to Rotterdam Centraal opens later this year, Line E will be extended to Rotterdam CS, although through service to Slinge will not be begin until 2011.

Conversion of the Schiedam – Hoek van Holland route from heavy rail to metro is still on the cards, although RET is still in negotiations with Pro Rail. Freight trains would continue to run to Vlaardingen, which would demand special four rail arrangements at the stops. The catenary will remain, but the voltage will be reduced from 1·5 kV to 750 V DC.