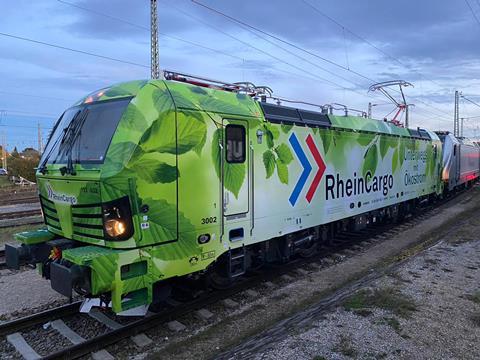 GERMANY: From next year all RheinCargo's traction electricity needs are to be supplied by enviaM using the Renewable Plus programme, the freight operator announced on October 29.
RheinCargo's electric locos use around 70 million kWh/year, with 7·5 million kWh fed back from regenerative braking. The Renewable Plus programme requires all electricity to be produced from renewable sources, with TÜV Rheinland certifying the offsetting of emissions generated during the construction of power plants.
To highlight the use of renewable energy, four Siemens Smarton locomotives due be delivered by December will receive 'underway with green electricity' promotional branding.
'The train is more climate-friendly than any other form of transport', said Wolfgang Birlin, director of Rail Logistics. 'By using green electricity, we significantly reduce the burden on the environment and make a contribution to active climate protection, which our customers expressly want.'