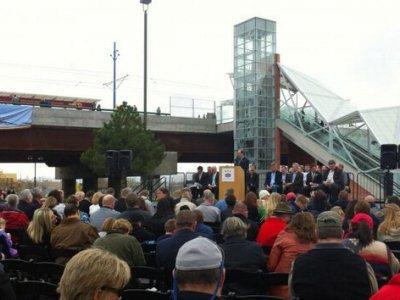 USA: Utah Transit Authority celebrated the opening of an extension of the TRAX light rail network to Salt Lake City Airport with entertainment and free trips from 10.00 to 22.00 on April 13. Revenue services began the following day.
'We need to grow our mass transit in order to grow our businesses,' said Governor of Utah Gary Herbert, who spoke at the opening. He added that 'with this line, we will see the revitalisation of the west side of Salt Lake City and the businesses along North Temple.'
Construction of the 9·7 km, six station extension started in 2008. Construction cost $235m, which came in 20% under budget, according to UTA Chairman Greg Hughes.
The journey time from the airport to the city centre is 20 min. Services will run at 15 min intervals on weekdays between 5.46 and 22.37, and at 20 min intervals on weekends.