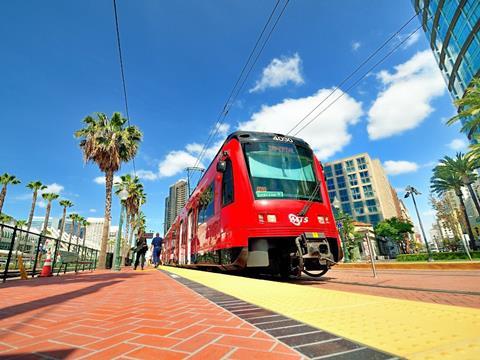 USA: San Diego Metropolitan Transit System announced a naming rights deal for the Green Line on October 19.
The 38 km route with 27 stops will be known as the Sycuan Green Line as part of the deal with Sycuan Casino. MTS says that the agreement would generate up to $25·5m over a term of up to 30 years.
'MTS has been one of the nation's leaders in securing new sources of revenue to support our operations', said MTS CEO Paul Jablonski. 'The Sycuan Green Line agreement will be a sustainable revenue source that will be used exclusively to help maintain our level of service throughout San Diego.'
The agreement also gives Sycuan the right to rename three stops on the route, and allows the company to operate bus shuttles to the casino from four Green Line stops.
MTS says that it will seek naming rights partners for the Orange Line as well as for individual stations. UC San Diego Health and UC San Diego are currently in the third year of its 30-year naming rights agreement for the UC San Diego Blue Line. MTS is working with naming rights consultant The Superlative Group.