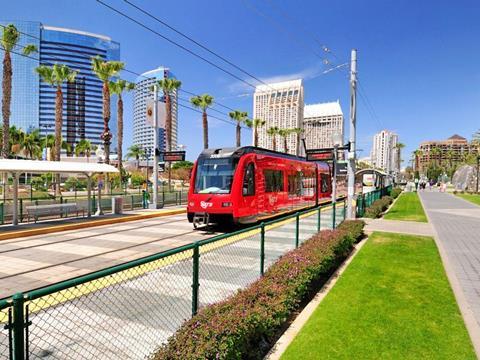 USA: San Diego's Metropolitan Transit System has awarded Siemens Mobility a contract to supply 25 light rail vehicles.
Siemens will supply its low-floor S700 LRV. Deliveries from its Sacramento plant are expected to be complete by the end of 2021, and the LRVs would replace the high-floor SD100 vehicles that Siemens supplied in the 1990s.
'The standards and expectations for public transit continue to change and we are committed to meeting the needs of our current and future riders', said MTS CEO Paul Jablonski. 'MTS operates one of the most efficient and reliable light rail systems in the US and a large part of our success is due to our long-standing working relationship with Siemens.'
MTS is currently taking delivery of 45 Siemens S70 vehicles ordered in 2016. Some of these are to be used on the Mid-Coast Trolley extension. This 17·5 km Blue Line extension from central San Diego to the University City area is scheduled to open in 2021.