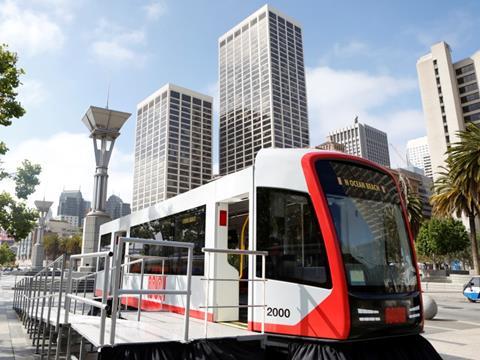 USA: San Francisco Municipal Transportation Agency has ordered an additional 40 Siemens light rail vehicles from for its Muni network.
The order is an option on a $648m contract signed in September 2014 for 175 LRVs with options for up to 85 more.
The LRVs are based on Siemens' S200 model and will be manufactured in Sacramento to meet Buy America requirements for federal funding. Siemens says that around 80% of the electricity used by the plant for assembly comes from a 2 MW photovoltaic installation on the building's roof. The first vehicles are to be delivered by end of 2016.
Features include a lightweight drive system equipped for regenerative braking and LED lighting that uses up to 40% less electricity than standard lighting. The design has been 'informed by public input' and a full-scale mock-up of a section of the light rail vehicle is on display in the city.
'Siemens is thrilled to extend its technology partnership with San Francisco and provide modern light rail trains to the more than 700 000 passengers who use San Francisco's transportation system', said President of Siemens Rolling Stock Michael Cahill.
SFMTA announced last month that civil works on the Muni network's Central Subway tunnel have been completed.