SPAIN: On May 20, a 2·1 km tunnel was holed through in San Sebastián which will form part of a 4·2 km cross-city corridor for the metre gauge railway through the city operated by Euskotren, known colloquially as El Topo (the mole). This would remove the need for trains to reverse at Amara station in the city centre.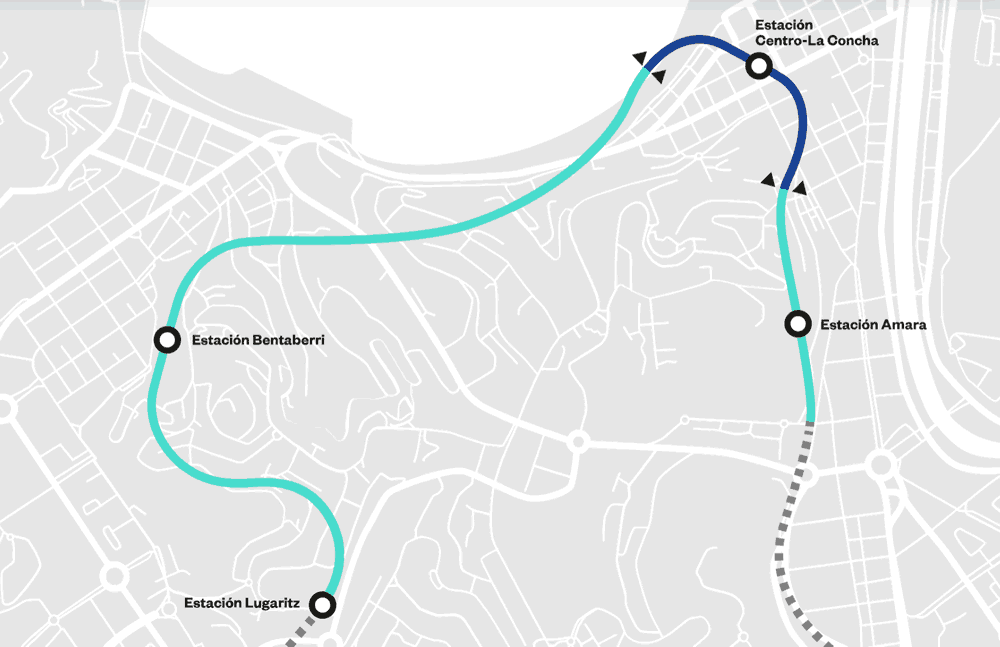 The new tunnel diverges from the existing Bilbao – San Sebastián line 200 m north of Lugaritz, heading northwest then east to pass under Bahía de La Concha at a depth of 30 m. A second section continues south to pass beneath Amara station just to the west before rejoining the line towards Hendaye.
Three new underground stations are being built. These are Bentaberri in the western Antiguo district, Centro-La Concha at the eastern end of the bay close to the city's famous beach, and Easo, which will replace Amara and free up 21 000 m2 for redevelopment.
Basque rail infrastructure manager Euskal Trenbide Sarea awarded two tunnelling contracts in 2017. A consortium of Moyua, Viuda de Sainz y Comsa won a €38m, 46-month contract for the 2·1 km western section from Lugaritz to Miraconcha in early September 2017. Sacyr, Cavosa, Campezo, Mariezcurrena and Zubieder won a €53·3m, 48-month contract for the 2·1 km section from Miraconcha to Easo in mid-December 2017. Completion is scheduled for 2022.
Euskotren's San Sebastián – Hendaye line is known as El Topo due to its numerous tunnels. Trains run between Hendaye in France to the east and Lasarte-Oria to the southwest, on a short branch south off the Bilbao line, reversing at Amara.