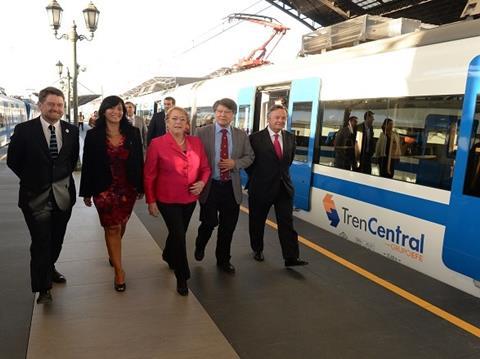 CHILE: President Michelle Bachelet attended the inauguration of a new suburban rail service in Santiago on March 17. The 21 km route runs south from the city's main station at Alameda to Nos, serving 10 stations on an upgraded section of the main line to Rancagua.
Services are initially operating at 20 min intervals between 10.00 and 17.30, offering a 30 min end-to-end journey time. From March 31 this will be shortened to 24 min, with services extended to 23.00. Headways will then shorten to 8 min in the peak and 10 min off-peak. From April 12 peak frequencies will be 6 min, and services will start at 06.00. State railway EFE is the operator, and the city's Bip! smart cards are accepted.
Services are operated with a fleet of 12 Alstom X'trapolis electric multiple-units ordered in 2012. Each two-car set is 46 m long with capacity for 518 passengers including 96 seated. The aluminium-bodied trainsets can run in pairs.