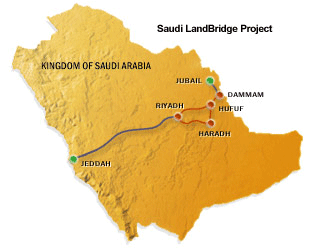 SAUDI ARABIA: The Ministry of Finance's Public Investment Fund has appointed the Italferr engineering consultancy subsidiary of Italian national railway group FS to undertake design work for the US$7bn Landbridge project.
Development of the planned 950 km double-track mixed traffic line between Riyadh and Jeddah Islamic Port is being managed by Saudi Railway Co on behalf of the government. At Riyadh the line would connect with the existing Saudi Railways Organization line to Dammam, which would be upgraded. This would provide a freight transit time of around 18 h between the Gulf and Red Sea, compared with five to seven days by sea.
Italferr's 14-month contract covers the design of the track, bridges and other structures, passenger and freight facilities, ETCS Level 2 signalling and telecoms, as well as environmental impact assessment and mitigation of the effects of sand. The Italian company will be assisted by local partner Arabian Consulting Engineering Centre.