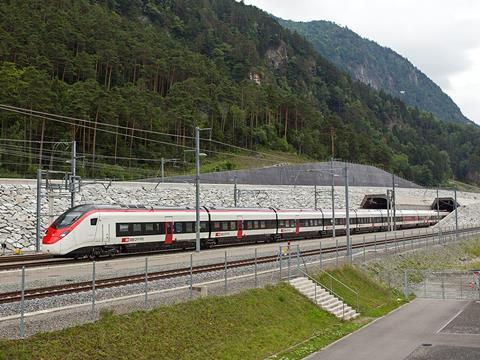 EUROPE: Swiss and Italian national operators SBB and Trenitalia signed an agreement on May 22 to increase the number of cross-border inter-city services. In an initial step the 2020 timetable will include an extra Basel – Milano service via Bern, giving four trains a day in each direction, with a fifth planned if demand warrants it.
The Ceneri Base Tunnel is due to open at the end of 2020, and the 2021 timetable will offer 10 instead of eight return workings a day between Zürich and Milano, with journey times cut from 3 h 30 min to 3 h. Selected trains will run beyond Milano to serve Bologna or Genova.
There will be two return services between Basel and Milano via Luzern instead of one, and the Frankfurt – Milano service launched in December 2017 will continue.
In due course all Zürich – Milano services will be operated by SBB's EC250 Giruno trainsets; these will also be diagrammed on the Basel – Luzern – Milano route, which they will share with ETR610 tilting trainsets, now branded by SBB as 'Astoro'. The Basel – Bern – Milano and Genève – Milano services will continue to be operated by ETR610 units.
Another step towards completion of the Ceneri Base Tunnel was planned for the night of May 26-27 when the Giubiasco signalling centre was due to be switched to ETCS Level 2 operation.