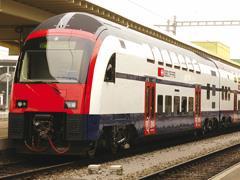 SWITZERLAND: Meeting on December 2, the SBB board of directors approved a fourth phase of expansion for the Zürich S-Bahn network over the next decade.
Developed by SBB in co-operation with Zürcher Verkehrsverbund, and representatives from the surrounding cantons, the latest programme includes both the launch of new routes and the expansion of existing services to accommodate growing demand. Since the S-Bahn was launched in 1990, passenger volumes have more than doubled, and according to the state-owned operator the existing network has reached its capacity limits.
The fourth phase expansion is intended to tackle some of the capacity bottlenecks as well as introducing additional routes giving direct connections and shorter journet times. The work will be co-ordinated with large-scale national and regional projects such as the Durchmesserlinie cross-city tunnel linking Altstetten, Zürich Hbf and Oerlikon.
The latest batch of improvements is to be completed in three stages, being launched with the December timetable changes in 2013 and 2015 and at some point during 2018. Stage 1 covers a new operating pattern for the lines serving the left bank of the Zürichsee, March, Glarnerland and Zug. Stage 2 will see development of other routes using the hub at Zürich Hbf, whilst Stage 3 covers capacity improvements on the Zürich – Winterthur route and connecting services around Winterthur.
Total cost of the infrastructure enhancements is estimated at SFr450m. This will be shared between the cantons, the federal government's infrastructure fund and SBB itself. The railway will be responsible for providing additional rolling stock, and the board had already voted in June 2008 to acquire a further 50 double-deck EMUs, A contract for the supply of these third-generation double-deckers was subsequently awarded to Stadler.