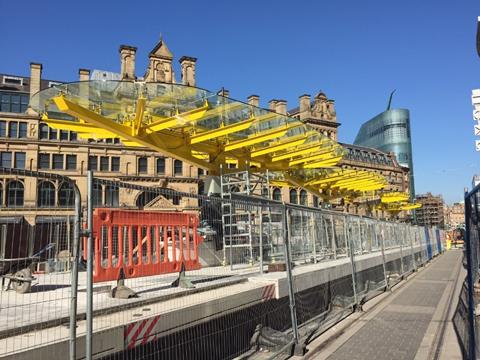 UK: The first section of Manchester Metrolink's Second City Crossing is now due to open before Christmas, Transport for Greater Manchester has announced. On October 26 overhead electrification equipment carrying current at 750 V DC is due to go live between Victoria and the new stop at Exchange Square.
'This is the first stage of an extensive testing and commissioning process to make sure the physical infrastructure is ready for passenger services in the run-up to Christmas', said TfGM Metrolink Director Peter Cushing. 'Once this work has been carried out and we've completed finishing works at the stop, we'll be able to run test trams'.
TfGM reports that the first phase of the Second City Crossing 'is being fast-tracked' thanks to a major grant from the European Regional Development Fund. Connecting Victoria with St Peter's Square, the new route is due to be completed in 2017.
An interview with Peter Cushing appears in the September 2014 issue of Metro Report International, available to subscribers via our digital archive.