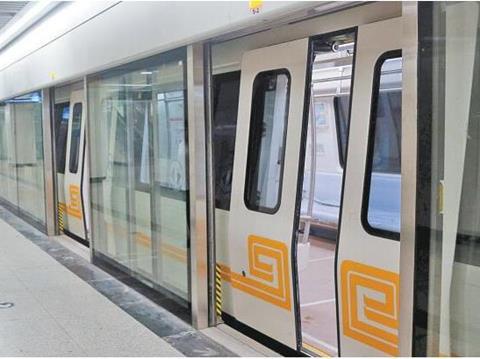 CHINA: The second metro line in Zhengzhou opened for trial operation at 10.00 on August 19. The north-south Line 2 operates between 6.00 and 22.00 at peak frequencies of 6 min and 8 min off-peak.
Line 2 connects Liuzhuang in the north with Nansihuan in the south. Interchange with the east-west Line 1 is provided at Zijingshan, and five further stations would provide interchange with the four lines that the city is planning to build.
Construction started in December 2010. Most of the 20·7 km route is underground, with 3·4 km and two of the 16 stations on an elevated alignment. The line is electrified at 1·5 kV DC overhead and the trains run at a maximum speed of 80 km/h, giving an end-to-end journey time of 36 min.
A 9·4 km northwestern extension to Tianshan with six stations is expected to open in 2020. A 22·6 km southern extension with 18 stations is planned to serve the future Zhengzhou South railway station, which is currently under construction, and Zhengzhou Xinzheng International Airport. Design work is due to finish later this year.