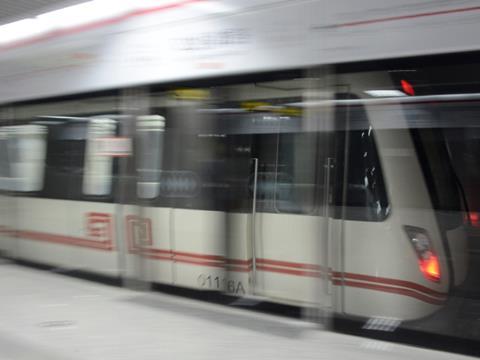 CHINA: The Zhengzhou metro opened for revenue service on December 28. The first phase of Line 1 runs from Xiliuhu in the west to Sports Centre in the east with 18 intermediate stations. The line serves both Zhengzhou railway station and Zhengzhou East station, where interchange will be provided with high speed services.
Construction of the 25·6 km line commenced on June 6 2009. Tunnelling was completed on October 27 2012, tracklaying on December 28 2012 and electrification on March 26 2013. The first test train ran on April 26 and test services have been running since September 16.
CSR Zhuzhou is supplying 25 trainsets, of which 22 have been delivered so far. Of these, 16 have passed testing and 12 are being used to provide services initially. Initial service intervals are expected to be 8 min 52 sec. By March, 14 trainsets are expected to provide services every 7 min 36 sec, and by September, 16 sets will be operating every 6 min 39 sec. In December 2014, 18 sets will provide services at intervals of 5 min 55 sec.
East–west services depart from 6.00 to 9.00 and west–east services depart between 6.30 and 9.30. Fares are distance-based, starting at 2 yuan and going up to 5 yuan.
The line is the first of a five-line network planned to open by 2019, with four more lines to open by 2025. Extensions of Line 1 at both ends are also envisaged.