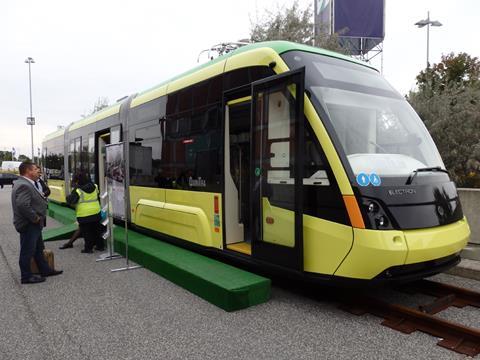 UKRAINE: The second OmniTram 100% low-floor tram developed by the Electrontrans joint venture of Ukrainian manufacturer Electron and Transtech F&E of Germany has entered service in Lviv.
The first five-section car was delivered to Lviv in July 2013, and is now in operation on the city's metre-gauge network which is powered at 600 V DC. The second car is a unidirectional three-section vehicle, 19·5 m long and 2 300 mm wide. All eight wheels are powered by 50 kW motors, giving a maximum speed of 70 km/h, and the ability to climb gradients up to 8%.
The OmniTram is equipped with bogies manufactured by TransTec in Vetschau. It has onboard energy storage from Electron to support regenerative braking.
The joint venture envisages that the OmniTram could be made available in 1000 mm, 1435 mm and 1524 mm gauge versions, able to run on networks with a 600 V or 750 V DC power supply. Both unidirectional and bidirectional versions are envisaged in various lengths. As well as the three-section variant, and the 30·2 m five-section model, a 40·9 m long seven-section version is envisaged.