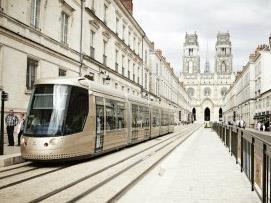 FRANCE: Orléans tram Line B was officially inaugurated on June 29, with regular services starting the following day.
Line B runs 11·3 km from St-Jean-de-Braye in the east to La Chapelle-St-Mesmin in west, with 25 stops including an interchange at Place de Gaulle with the 17·9 km north-south Line A which opened in November 2000.
Alstom was awarded a turnkey contract to build Line B in 2006. This including infrastructure, signalling and electrification as well as the supply of 21 Citadis 302 trams worth €90m. Alstom deployed its Appitrack automated tracklaying technology and used electric welding of grooved rails to speed work and minimise disruption. Egis Rail supervised the project.
Keolis operates bus and tram services in Orléans under a separate seven-year contract which began in January 2012.
Line B is part of a wider programme of improvements to the townscape. This has included building 6·7 km of cycle paths, and each tram has two cycle spaces. There has been extensive tree planting, 7·3 km of the route has grassed track, and more than 2 km around the cathedral and Rue Jeanne d'Arc in the city centre is equipped with Alstom's APS ground-level power supply system.
The overall cost of Line B was €395m, with EIB providing a €175m loan.