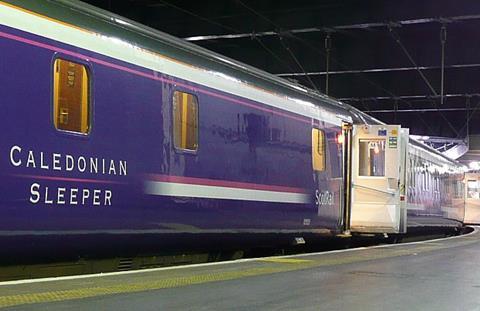 UK: Serco has won a 15-year franchise to operate the Caledonian Sleeper service between London and various Scottish destinations from April 2015, replacing incumbent FirstGroup.

At present, two trains operate in each directions on six nights per week; a 'lowland' service connecting London Euston with Edinburgh and Glasgow Central, and a 'highland' service linking London Euston with Inverness, Aberdeen and Fort William. The trains are currently operated as part of FirstGroup's ScotRail franchise, and represent 2% of franchise revenue.

Transport Scotland has selected Serco to operate 'all aspects' of the service and oversee a £100m investment in new rolling stock and other enhancements. Leased through Beacon Rail, a fleet of 72 locomotive-hauled coaches is to be supplied as four trainsets by CAF for introduction from 'summer 2018'. The fleet renewal programme is being underpinned by a £60m capital grant from the Scottish government. The vehicles will include en-suite berths in a premium business class, reclining seats that can be repositioned as flat beds, and a 'brasserie-style Club Car'.

Serco also says that it will introduce a broad partnership with Scottish suppliers to offer an 'outstanding hospitality service that is emblematic of the best of Scotland'; hotel and catering company Inverlochy Castle Management International has already agreed to support the operation. Serco expects to introduce an updated sales and reservation platform to offer a 'broader range of fares' to drive growth in passenger numbers, both among UK residents and international tourists.

The franchise would deliver revenues of up to £800m over the 15 years, Serco says, of which 'approximately £180m will be in the form of franchise payments'. A 'gain share' agreement has been reached with Transport Scotland 'to incentivise performance improvements'. Serco has agreed contracts with GB Railfreight to provide traincrew and traction, and Alstom for rolling stock maintenance.

Chief Executive Rupert Soames commented that Serco had 'a strong track record of providing high-quality and efficient rail services around the world, as well as experience in managing large-scale tourism-focused transport services'. Its Australian business Great Southern Rail operates the premium long-distance Ghan, Indian Pacific and Overland services linking Sydney, Melbourne, Adelaide, Darwin and Perth.