POLAND: Thanks to EU grants and other funding, the number of trams on order for Polish cities is rising fast as operators replace ageing fleets. Up to 350 cars could be ordered by 2012, reports Stefan von Mach.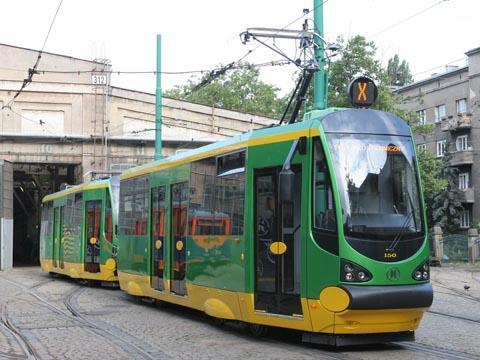 As many as seven companies are active in the tram building market in Poland, suggesting that competition may develop in the coming years. In many ways the market is quite open, as conditions are similar in the various cities. Electrification at 600 V DC is standard, and all operators use similar vehicles - Konstal and its successor Alstom have built more than 3 500 cars to a common design derived from the PCC car.
Of the different versions of this standard vehicle, about 80% are of Type 105N. This and its sister 805N design have been rebuilt or modernised for several cities. As the cost of building these cars is relatively low, some operators have continued to buy the same design in the last 15 years, albeit with technical improvements such as IGBT inverters and asynchronous motors.
Suppliers must take into account the condition of tracks on the Polish tram networks. While track has been relaid on many routes, much infrastructure is in poor condition, and running 100% low-floor cars - which is the aspiration of most cities - on badly-maintained infrastructure is problematic to say the least.
Phoenix rises in Chorzów
Once the national supplier of rail and tram vehicles, Konstal was taken over by GEC Alsthom in 1997. Neglect of city networks in the post-communist era led to a steep decline in the number of trams built, and only now is production at the Chorzów plant ramping up again. In 1999 and 2000 the factory built a number of 70% low-floor trams of Type 116N, known by Alstom as Citadis 100. Warszawa took 27 cars, Katowice 17 cars and Gdansk just four.
The company supplied 31 Type 105N2k trams to Warszawa and 14 to Szczecin in 2000-01, but orders then came to a halt. Alstom took the opportunity to reorganise production and management, and a programme of investment was implemented to prepare the Polish subsidiary for a fresh start. In April 2007 Chorzów was nominated as a Product Centre of Excellence.
The business is now reviving, and 170 Metropolis cars for the Budapest metro will be built in Chorzów. The plant is also manufacturing 31 Citadis-Dualis cars for SNCF, and production of 30 Citadis X-04 trams is in hand for Istanbul. The X-04 design is intended mainly for the markets of central and eastern Europe - low labour costs mean that the steel-bodied 100% low-floor vehicle can be offered at a competitive price.
Made in Poznan
Located in Poznan, Hipolit Cegielski Fabryka Pojazdów Szynowych produces main line passenger coaches, DMUs and trams. In 1995 the company built a Type 105N/2 articulated tram with a low-floor centre section. This was followed in 1997-98 by assembly, in co-operation with CKD, of 10 Type RT6-N1 low-floor trams for local operator MPK. Later, Cegielski worked with Bombardier to produce low-floor trailers for Leipzig and Rostock, and in 2007 the factory turned out 30 four-axle high-floor trams for TW in Warszawa.
In June 2007 the company unveiled its Puma design, designated Type 118N; construction of a prototype had started in 2005. This three-section unidirectional vehicle is 30·2 m long and 2 400 mm wide. It has a 67% low floor with power bogies under the end sections and two bogies of conventional design below the centre section.
Also producing trams in Poznan is Modertrans, which is based at the local operator's workshop. In 1998, MPKP's bus and tram workshops were split into two businesses, and Modertrans was founded in 2005. MPKP still holds a 25% stake in Modertrans, with the majority share owned by bus repair company Zakladu Napraw Autobusów. Modertrans employs 230 people and is currently undertaking tram repairs, refurbishment and some new construction. The company developed its own bogie in 2007 to fit under Konstal-built Type 105N cars. Compared with the original Konstal bogie, the new design has an H-frame and improved primary suspension. Bogies are currently being supplied to Protram in Wroclaw.
Modertrans is working on three new or rebuilt tram designs. The Moderus Alfa HF04 car is a four-axle high-floor design with a steel body 13·9 m long and 2 350 mm wide. It can be fitted with two 41 kW DC traction motors with or without chopper controls, or with two 50 kW AC motors. The first two of four AC cars for MPK Poznan have already been delivered, along with two for TS in Katowice. The company has contracts for eight DC-motored cars, with options for a further six. It is also building two modified Alfa bodyshells with three external-opening doors each. Moder­trans quotes a price of €460 000 for the DC version and €620 000 for an AC car.
Moderus Beta is a refurbished 26·6 m long Duewag N8C car which will be fitted with a low-floor centre-section and a new front end. A batch of 46 ex-Dortmund cars is being rebuilt before delivery to ZKM Gdansk, at a cost of just €170 000 per vehicle.
Moderus Gamma is a 100% low-floor tram. The five-section 30 m car will have a welded steel body, but the first vehicle will not be completed until the end of 2009 at the earliest.
Refurbishment in Lódz
The engineering department of muni­cipal operator MPK Lódz is using its old tram depot dating from 1898 to overhaul and refurbish trams, and the company has built up considerable experience in repairs, production and remanufacture of parts, mainly for trams of Types 105N and 805N.
To date, more than 115 four-axle Konstal trams have been overhauled and modernised for MPK, and 24 cars of the same type were refurbished for ZKM Gdansk in 2005-06. The cars are being completely rebuilt, with a new welded-steel body mounted on a reconditioned underframe. Traction motors, transmissions and electrical equipment are replaced and chopper control installed. At the same time the cars are being fitted with a modern interior and given a contemporary front end.
Former workshop
In 1991 the former railway workshop ZNTK Bydgoszcz was hived off by PKP, and a decade later the company was renamed Pojazdy Szynowe, better known as Pesa. Today, the plant builds trams, EMUs and DMUs, and remanufactures locomotives and main line coaches.
Pesa won its first tram contract in 2005 when the metre-gauge Elblag network ordered six three-section low-floor cars. The company delivered 15 five-section standard-gauge cars to TW Warszawa in 2006-07, followed by 10 similar metre-gauge cars for MPK Lodz in 2007-08 and another two for MPK Bydgoszcz in 2008.
The three-section version is 20·2 m long and the five-section version 31·8 m; width is 2 350 mm. Both are fitted with four 105 kW VEM motors with Voith transmissions, Medcom converters and Stemmann pantographs. The latest version for MPK Bydgoszcz had a price tag of €2·18m.
Ambitions in Wroclaw
Protram was founded when the tram repair business of MPK Wroclaw was separated from the main company. Now employing 120 staff, the builder began with a contract to assemble six Type 105N2k/S/2000 cars under licence from Alstom for MZK Szczecin.
By 2004 Protram had undertaken more than 200 general overhauls and refurbishments of Wroclaw's older four-axle Konstal cars which have been redesignated 204WrAs. In 2006 Protram released the first of two models of its 205WrAs design for MPK Wroclaw. This is a 20% low-floor, three-module car powered by eight 50 kW asynchronous motors. A further eight cars are to be built.
Protram is currently developing a 70% low-floor car for the Polish market which is expected to sell for around €1·4m. This 30 m long vehicle will be 2 300 mm wide and will be fitted with four bogies, two of them under the centre section. Negotiations with a customer have already started, and the first delivery could be in 2009 or 2010.
Bus builder joins in
Solaris Bus & Coach is an established family-owned bus manufacturer located in Bolechowo, north of Poznan. President & CEO Krzysztof Olszewski, who founded the business, gained experience with Neoplan in Germany. His company is currently working on a 100% low-floor tram, and a pre-series vehicle is expected to emerge in summer 2009.
The 31·7 m long standard-gauge design has a 2 350 mm wide body with five sections designed to carry up to 199 passengers, 61 of them seated. Two trucks powered by 105 kW motors will be mounted under the first and the fifth section, and continuous axles are intended to ensure good ride quality on worn track. Most components will come from Polish suppliers.
Styled by the same designer, the Solaris tram will resemble the company's buses. Three-section versions are also envisaged with lengths of 18·8 m or 20 m, whilst the five-section cars will measure 29 m or 31·7 m, with widths varying from 2 300 mm to 2 650 mm.
Longer term plans foresee a metre-gauge version as well as a 70% low-floor car. Before launching these cars on the market, Solaris wants to have accumulated 30 000 km with the pre-series vehicle during 2009.