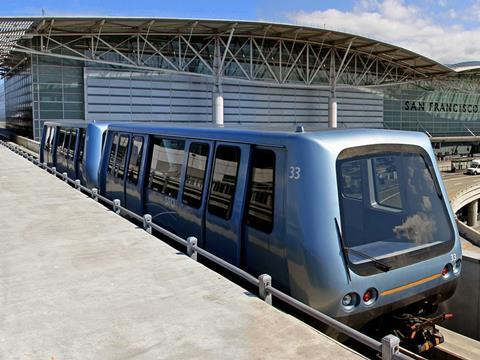 USA: The City & County of San Francisco has awarded Bombardier Transportation a new contract to operate and maintain the SFO AirTrain automated peoplemover at San Francisco International Airport.
The contract is worth $220m over 10 years, and has an option for an additional five years.
Bombardier supplied the SFO AirTrain system and has operated and maintained it since it opened in 2003. The 10 km of guideway serves nine stops, with the fleet of 38 Innovia APM 100 vehicles carrying more than seven million passengers/year between the airport's terminals, car parks and BART metro station.
In 2016 Bombardier was awarded a contract to provide three additional vehicles, upgrade the signalling and build a 600 m guideway extension with a new stop.
'We look forward to supporting the airport as it extends and modernises the AirTrain system to meet its future mobility requirements', said President of Bombardier Transportation's Americas Division Elliot G Sander when the operating contract was announced on June 26.