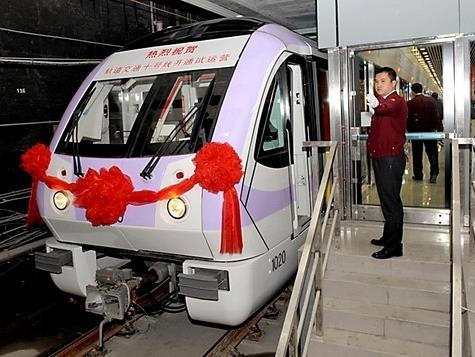 CHINA: The departure of the first train at 09.00 on April 10 marked the start of trial operation on Shanghai metro Line 10, exactly 15 years after the inauguration of the initial 16·5 km section of Line 1.

Construction of the 29·6 km line between Xinjiangwancheng and Hangzhong Road has taken four years. Since the trains, signalling and other equipment are still being commissioned, operation is initially restricted to 09.00 – 16.00. The four-station branch from Longxi Road to Hongqiao is not yet open.

Line 10 connects the new city of Jiangwan in northeastern Shanghai with the southwestern suburbs via the city centre, serving key commercial, cultural and tourist locations. Six of the 27 stations provide interchanges to other metro lines.

Seven stations — Jiangwan Stadium, Tongji Univeristy, Hai Lun Road, East Nanjing Road, Yuyuan Garden, Shanghai Library and Jiaotong University — have been decorated with large-scale works of art incorporating local cultural themes.

A branch of Line 11 from Jia Ding Xin Cheng to An Ting entered service about two weeks earlier, on March 29. This was followed by a one-station extension of Line 9 from Century Avenue to Middle Yanggao Road on April 7 and a 26·8 km eastern extension of Line 2 between Guanglan Road and Pudong International Airport on April 8.

With these latest inaugurations, the Shanghai metro network now has 11 lines totalling 420 km and 282 stations and will carry more than five million passengers per day.