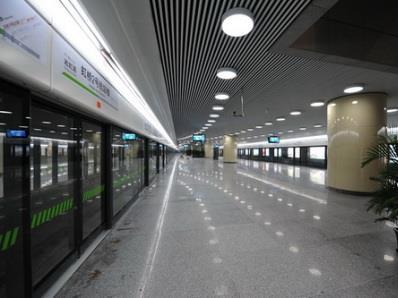 CHINA: March 16 marked the simultaneous opening of the new Terminal 2 at Hongqiao International Airport and an 8 km extension of Shanghai metro Line 2 to serve the new hub. The extension runs from the former western terminus at Songhong Road to East Xujing via Hongqiao Airport Terminal 2. Trains operate between 05.35 and 22.50.
With 11 domestic airlines moving to T2, about 90% of flights will now depart from the new terminal, which is designed to handle around 1·1 million passengers. One local airline and flights to South Korea and Japan will continue to use Terminal 1. The airport expansion is part of an ambitious plan to develop the greater Hongqiao area, which will include a 26·5 km2 business park.
Another intermediate station has been built on Line 2 between the airport and East Xujing, but not yet opened. This will provide interchange to the high speed railway station at Hongqiao, which is expected to open in July. The main line station will eventually have 30 tracks and is designed to handle 80 million high speed rail passengers per year by 2030.
Shanghai metro Line 10 will serve both airport terminals when it enters service in October, interchanging with Line 2 at Terminal 2. Until then passengers arriving by metro will have to take a shuttle bus from T2 to reach T1. The 36·2 km Line 10 will run from Hongqiao through the city centre to New Jiangwan Town in northeast Shanghai and will have 31 stations.
A 26·8 km eight-station eastern extension of Line 2 from Guanglan Road to Pudong International Airport is expected to open before the World Expo begins on May 1.