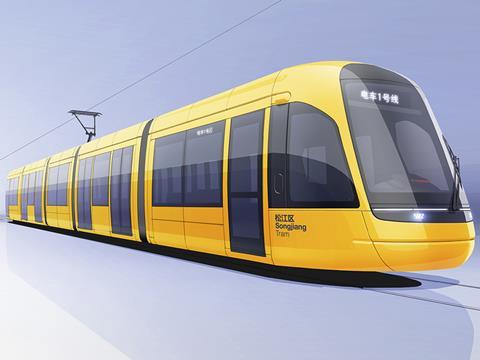 CHINA: Shanghai Songjiang Tramway Investment & Operation Co has awarded the Shanghai Alstom Transport joint venture of Shanghai Rail Traffic Equipment Development Co (60%) and Alstom (40%) a €72m contract to supply 30 Citadis trams for use in the Songjiang suburb of Shanghai.
Announcing the order on April 9, Alstom said it was the first order for Citadis trams in China. SATCO is to manufacture the vehicles, with Alstom's La Rochelle plant in France providing the control and monitoring software and Villeurbanne the hardware, Le Creusot the bogies and Tarbes technical support for the power modules. Alstom's Sesto site in Italy will provide technical support for the traction inverters.
Songjiang district plans to build six tram lines by 2020, with the 30 Citadis trams to be used on the two first lines, T1 and T2, which are scheduled to open by 2017. The two lines will have a total length of 31 km with 42 stops, and are predicted to carry 173 000 passengers/day. According to Alstom, Shanghai plans to build an 800 km tram network by 2020.
Alstom has now sold more than 1 900 trams to 49 cities, with 1 600 Citadis trams in operation.