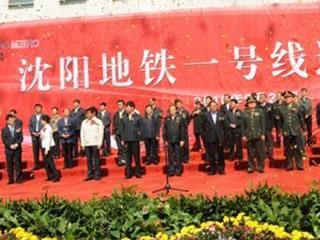 CHINA: On September 27 Shenyang metro Line 1 entered commercial service following a year of trial operation on part of the route. The opening ceremony was attended by the Mayor of Shenyang Chen Haibo, Deputy Mayor Xing Kai and government and party officials.

The metro project was initiated in the 1960s but was halted during the Cultural Revolution. Planning resumed in the 1990s and construction of Line 1 finally began with a groundbreaking ceremony on November 18 2005. Trial operation without passengers started on September 23 2009 using a fleet of 23 six-car trains supplied by CNR Changchun Railway Vehicle Co.

The 27·8 km underground Line 1 runs from Shisanhao Jie in the west to Liming Guangchang in the east and has 22 stations. The route serves the city centre and Shenyang station and will eventually interchange with Line 2 at Qingnian Dajie. Work on a four-station extension west to Dongling Park started in 2009.
The second line will be 22 km long with 19 stations and is due to open in 2012. The north-south route will serve business facilities being developed along the 'Golden Corridor'. Total capital expenditure for both lines is 20bn yuan, fully funded by Shenyang government.

In May 2009, MTR Corp signed an agreement with Shenyang Metro Group and Shenyang municipal government to create a joint venture to operate and maintain Lines 1 and 2 for 30 years. MTR also agreed to explore property development opportunities along the two routes and to prepare feasibility studies for metro Line 4 and a northern extension of Line 2.