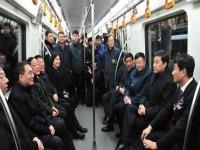 CHINA: Revenue services on Shenyang metro Line 2 between Santaizi and Quanyunlu began on January 9, serving business facilities being developed along the city's 'Golden Corridor'. Work on the 21∙8 km north-south route with 19 stations began in 2006.

Line 1 had opened in September 2009. The capital expenditure on both lines totals 20bn yuan, fully funded by the Shenyang government.

The lines are operated and maintained by a joint venture of MTR Corp (49%) and the municipal Shenyang Metro Group (51%) under a 30-year contract.