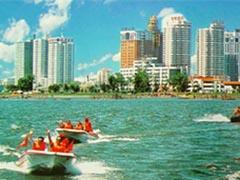 CHINA: A ground-breaking ceremony at the Olympic sports centre in Shenyang on February 17 formally launched construction of a 60 km tram network in the city.
The 4∙86bn yuan project is being managed by China CNR Corp under an agreement signed with the municipal government on December 1 2011. The aim is to begin test running in March 2013 and launch passenger services in June 2013 in time for the 12th National Games three months later. 2013 also marks the 40th anniversary of the closure of the city's previous tramway.

The planned network will have 73 stops on four lines linking key destinations including the Hunnan New Area industrial zone, Taoxian Airport, the conference and exhibition centre, Shenyang South high speed rail station, metro stations, the National Games Village and the Olympic Sports Centre.

CNR expects construction of the surface running segregated tram lines to be around a quarter of the cost of the city's metro lines. The company is to supply an initial 20 low-floor trams.