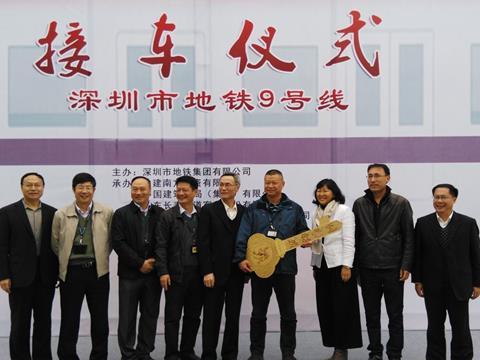 CHINA: The Shenzhen metro became the third-largest network in China on October 28, when two lines opened. These bring the network to 285 route-km and eight lines, operated by three companies.
Of the two additions to the network, Line 7 is 30·2 km long with 27 stations, including 10 interchanges, and one more station due to open next year. It runs southeast from Xili Lake in the northwest to Funin before turning to the northeast to terminate at Tai'an. The end-to-end journey time is 55 min and services are initially running at 10 min headways. Construction started in October 2012 and cost 24·1bn yuan.
Line 9 links Hongshuwan Nan with Wenjin on a 25·3 km alignment with 22 stations including six interchanges. Services run every 6 to 8 min with an end-to-end journey time of 45 min. The Line 9 depot near Yinhu station is due to be expanded in time for the opening of a 10·8 km western extension with 10 stations, which is planned to be commissioned in 2020. This would extend the route from Hongshuwan Nan to Navigation Road.
Both underground lines are operated by Shenzhen Metro Group, and services run between 06.30 and 23.00. CRRC Changchun has supplied a fleet of 41 six-car Type A trainsets for Line 7 and 29 for Line 9. These collect power at 1·5 kV DC on overhead supply.
The network is due to expand further next year with the opening of an 8·6 km southern extension of Line 5 from Qianhaiwan to Chiwan. More extensions are due to open in 2019-20. A 60 km monorail line is also planned, of which the 13 km first phase will link Dapeng with Xinda.