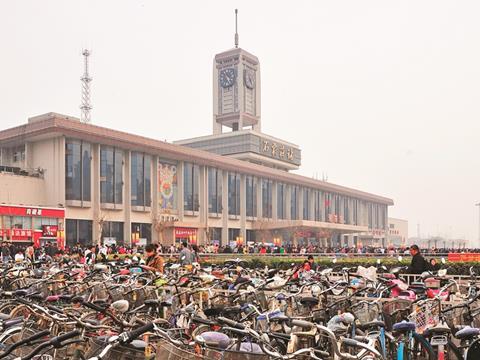 CHINA: The National Development & Reform Commission approved two extensions to the Shijiazhuang metro on January 8.
Line 1 Phase 2 would run north from the line's current eastern terminus of Xiao Hedadao to Dongyan, across the Hutuo River. A third depot is to be built at the northern end of the route, to augment those at both ends of the Phase 1 route. The 12·7 km section with seven stations would cost 7·73bn yuan to build and is expected to open in 2020.
Line 3 Phase 2 would run 8·1 km east from San Jiaotang to Bei Lexiang with five stations. Like the second phase of Line 1, it would be entirely underground. The cost is put at 5·47bn yuan and opening is due in 2021.
Construction of Line 1 Phase 1 started in July 2013. Trial running on this section, between Xiwang and Xiao Hedadao is due to begin in mid-2016. The line will use six-car Type A trainsets with a maximum speed 80 km/h.
Once the newly approved extensions are open, Shijiazhuang will have an 80·4 km three-line metro network.