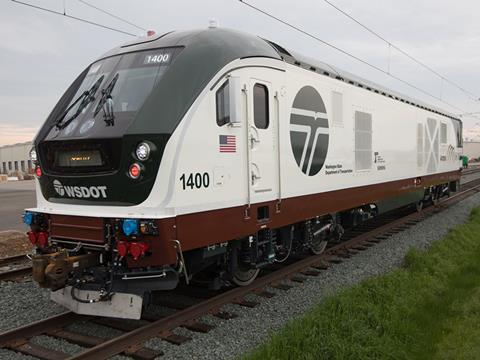 USA: The first of eight SC-44 Siemens Charger diesel-electric locomotives ordered by Washington State Department of Transportation has been rolled out at the manufacturer's Sacramento plant.
The locomotives are to be used with Talgo coaches on the Cascades service from Eugene, Oregon, to Vancouver in Canada, which is operated by Amtrak on behalf of WSDOT and the Oregon Department of Transportation.
Charger locomotives have been ordered by the states of Illinois, California, Michigan, Missouri, Washington and Maryland though an initial contract placed in 2014 and subsequent options. Separately, Charger locomotives have also been ordered for All Aboard Florida's future Brightline service.
The 4 400 hp SC-44 locomotives have Cummins QSK-95 engines with Selective Catalytic Reduction to meet the Tier 4 emissions standards, and are designed for a maximum speed of 200 km/h.
Siemens Charger locomotive firm orders to March 2017
Multi-state order
Illinois (procurement lead)
33
California
22
Washington
8
Maryland
8
Separate order
Brightline
10