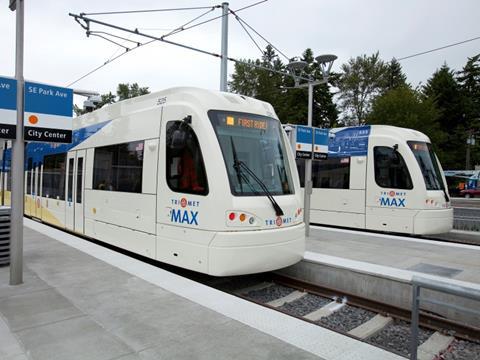 USA: Portland transport agency TriMet has selected Siemens Mobility to supply up to 86 light rail vehicles, the manufacturer announced on July 29.
Deliveries from Siemens' Sacramento plant are expected to begin in 2021. The base order of 26 LRVs would replace TriMet's 26 Type 1 vehicles supplied by Bombardier in the 1980s.
Siemens will supply its S700 vehicle, developed jointly with TriMet. Designated by the operator as Type 6, the low-floor LRVs are based on Siemens' S70 design, and will be fitted with Internet of Things equipment for remote monitoring.
'Retiring our older rail vehicles with stairs and replacing them with these new vehicles will mean the entire MAX light rail fleet will be all low-floor, better meeting ADA standards and creating a better experience for all riders, no matter their physical abilities', said TriMet General Manager Doug Kelsey. 'These new vehicles also are a critical part of our making transit better efforts and will make the light rail system more efficient and more reliable for our customers.'
The contract includes options for up to 60 more LRVs, which would be needed for planned extensions of Portland's MAX light rail network.