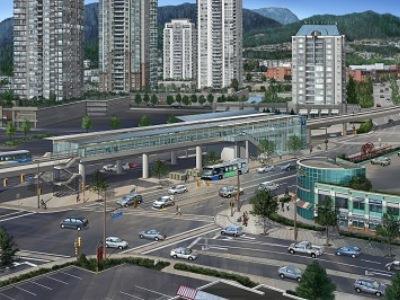 CANADA: British Columbia's Ministry of Transportation & Infrastructure announced on October 4 that it had selected a consortium led by SNC-Lavalin as preferred bidder for the contract to design, build and finance the Evergreen Line linking Burnaby, Port Moody and Coquitlam, east of Vancouver.
Running from Lougheed Town Centre in Burnaby to Douglas College in Coquitlam, tThe 11 km automated metro line will be fully integrated with the city's existing SkyTrain network. It will be connected directly with the Millennium Line, providing interchange to the Expo and Canada lines. The line will parallel the existing CP main line between Port Moody and Coquitlam, where passengers will be able to change to and from West Coast Express commuter rail services.
Led by SNC-Lavalin and its two subsidiaries SNC-Lavalin Constructors (Pacific) and SNC-Lavalin Constructors (Western), the winning consortium also includes the Graham Building Services joint venture, International Bridge Technologies, Jacobs Associates Canada, Rizzani de Eccher, SELI Canada and MMM Group.
Serving seven stations, the route includes elevated and at-grade sections plus a 2 km bored tunnel. As well as civil works, the contractors will be responsible for power supplies, signalling and a new rolling stock stabling and maintenance depot. Enabling works are already underway, and major construction is expected to start before the end of this year, as soon as the main works contract has been signed. The line is expected to open for revenue service in mid- 2016.
Total cost of the project is put at C$1&midot;4bn, of which the province is providing C$583m. The national government is contributing C$417m, and a further C$400m is coming from Vancouver's public transport agency TransLink, which will operate the line once it has been completed.