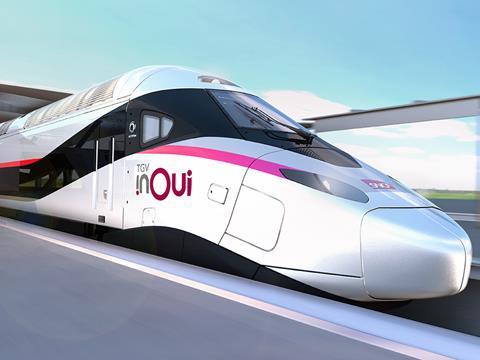 FRANCE: SNCF Mobilités confirmed an order for Alstom to supply 100 high speed trainsets under the TGV of the Future programme at a board meeting on July 26.
Branded Avelia Horizon by Alstom, the double-deck trains will be acquired at a cost of €25m per trainset, which SNCF says is €5m cheaper than the list price for the current TGV Duplex design. The total order value is €2·7bn, which includes an allocation of €170m for maintenance and contract options. News of the planned order broke in March, when Finance Minister Bruno Le Maire suggested it would be placed formally 'by the end of June'.
The trains are foreseen as the first build of a next generation of high speed trainset which is being developed under the TGV of the Future programme launched by Alstom and SNCF in September 2016. Delivery of the trains is planned to begin in 2023 and conclude 10 years later.
The trains will have a more modular interior and is expected to offer a 20% increase in capacity, carrying a maximum of 740 passengers in the most high-density layout envisaged by SNCF. This compares to approximately 500 in existing TGVs. Passengers would also be offered improved onboard services and connectivity.
SNCF says that the trains will be 'the most eco-friendly TGV design in history', offering a 20% reduction in energy consumption. This will be achieved partly through the adoption of regenerative braking. SNCF says that the vehicles will be '97% recyclable'.
Accessibility for passengers of reduced mobility 'will go far beyond the standards legally required', SNCF says. 'Independent' level access to the whole train will be possible thanks to the use of rotating lifts, while the toilet design is to be 'completely renewed'.
The trains will be fitted with real-time condition monitoring tools from new to facilitate predictive maintenance techniques, with the aim of reducing maintenance costs by more than 30%.
The trainsets will share the short-wheelbase power car design already developed for the Avelia Liberty trainsets which Alstom is supplying to Amtrak and which the company has proposed for the High Speed 2 route in the UK.
'This historic order, which has been made possible by the French railway reform programme, is an important milestone in the development of our high speed proposition', said SNCF President Guillaume Pepy. 'The TGV of the Future is an instrument of conquest in a European market opening up to competition. Our technological excellence and innovation is being put at the disposal of more than 100 million passengers per year.'