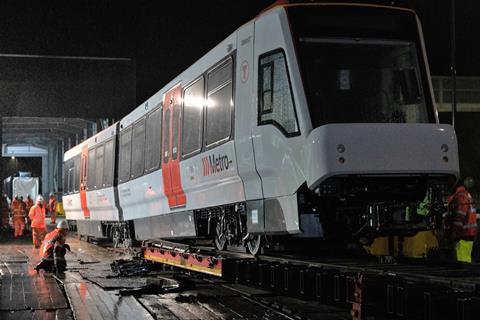 UK: The first of the Stadler Class 398 tram-trains for South Wales Metro services arrived at Transport for Wales' Taff's Well depot by road on the night of March 21.
This follows several months of testing at Network Rail's Rail Innovation & Development Centre at Melton Mowbray.
The 36 high-floor tram-trains from Stadler's Citylink family are being manufactured at the company's factory at Valencia in Spain, and one was exhibited at InnoTrans 2022 in Berlin.
They are expected to enter service on the Treherbert, Aberdare, Merthyr and City lines in 2024, after the completion of the Core Valley Lines modernisation programme.
The three-section trainsets are 40 m long and 2 650 mm wide with a 915 mm entrance height. They have 126 seats and a capacity of 252 passengers at 4/m2. Battery power will enable the use of discontinuous 25 kV 50 Hz electrification, avoiding the complexity, disruption and expense of installing overhead equipment in challenging locations such as tunnels and bridges with restricted clearances.
'We're on a transformational journey at TfW and these new trains are a key part of improving the customer experience, so that we can encourage more people to travel sustainably on public transport', said TfW Chief Infrastructure Officer Dan Tipper. 'These are modern trains, with high quality features that will offer our customers more accessible, reliable and greener transport.'
Treherbert line modernisation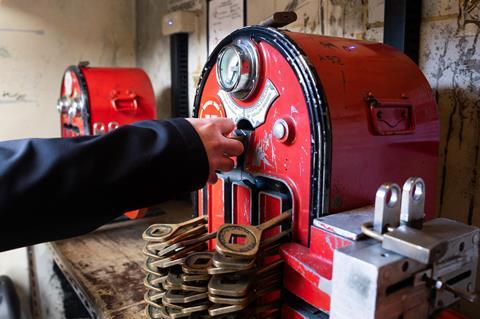 On March 21 TfW announced that the line between Pontypridd and Treherbert will be closed for modernisation from April 30 until early 2024.
There will be a replacement bus every 30 min, with extra services in the peaks and a dedicated plan for a local school. TfW will be offering 50% off the cost of travel for people living in the Rhondda and travelling between stations on the line and destinations towards Cardiff Central.
The reconstruction work will include track renewals, electrification, resignalling, and the diversion of gas and water mains. There will be new platforms at Treherbert, Ynyswen and Dinas Rhondda stations, and new footbridges at Ynyswen and Dinas Rhondda. Other station works will cover waiting rooms, shelters, help points, CCTV cameras, ticket machines and customer information screens, as well as new and refurbished toilets — unlike the DMUs they will replace, the metro-style tram-trains do not have toilets.
During the first two weeks of the work on the Treherbert line, the lines to Aberdare and Merthyr Tydfil will also be closed.
'This is a massive investment that will make a huge difference to all passengers', said Lee Waters, Deputy Minister for Climate Change with responsibility for Transport. 'There will inevitably be disruption and inconvenience in the short term but it will bring an enormous improvement. Please bear with us, it will be worth it.'