L.B. Foster Company, the NASDAQ listed transportation and infrastructure solutions group, is showcasing its end-to-end track management and performance monitoring solutions at Innotrans 2022 in Hall 21 on stand 250, and outside on stand O160.
L.B. Foster's Total Track Management combines its comprehensive portfolio of high-performance rail products with market-leading onboard and trackside friction management solutions, delivering extended asset life and improved asset performance.
Total Track Monitoring creates a smart interface between conventional track products and intelligent, performance monitoring digital technologies, delivering always-on data that improves asset performance, drives cost efficiencies, enhances safety and assists security. These include earthworks, flood, rockfall, and bridge strike.
A further extension of L.B Foster's rail offer is its telecoms, fire safety systems, security and digital signage capability, all of which will be showcased at InnoTrans. L.B. Foster will be exhibiting its full suite of digital customer information signage solutions, including its fixed totem, wall mounted unit, poster board and brand-new version four mobile totem with exciting new functionality features.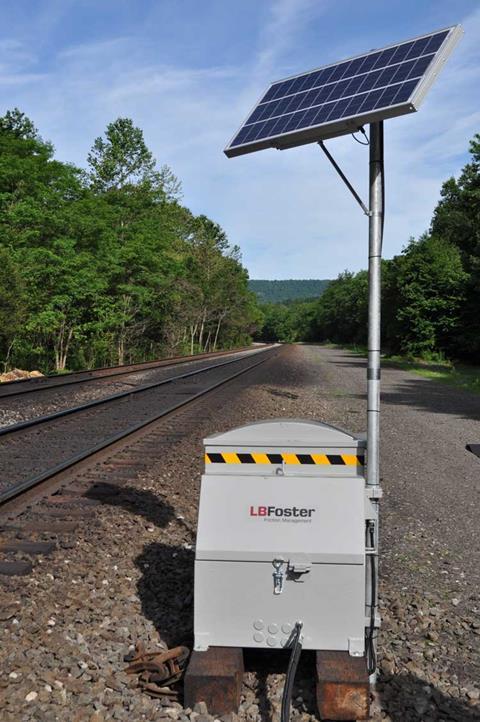 John Kasel, Chief Executive Officer, L.B. Foster Company, says: "We identified a comprehensive growth strategy of scalable core businesses that have headroom for expansion and provide differentiated technology solutions offerings that address the critical needs of our customers. In the rail sector we have already begun to execute on this strategy and integrate more of our global engineering capabilities to provide opportunities to transform L.B. Foster Company into a technology­ focused, high-growth global solutions provider of engineered, manufactured products and services that builds and supports critical infrastructure."
A key supply chain partner, L.B. Foster's integrated solutions are used widely across London's new Elizabeth Line.
L.B. Foster is a global solutions provider of engineered manufactured products and services that builds and supports infrastructure. Visit www.lbfoster.eu.